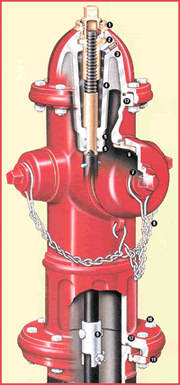 Performance is the real test of a fire hydrant. Proven flow characteristics, 250 psig rating, and easy operation and maintenance are among the features of the Mueller Super Centurion 250 3-Way Fire Hydrant. Plus, the hydrant is backed by a 10-year limited warranty on materials and workmanship, and Mueller's plant is ISO 9001 certified, the highest level available.
250 psig working pressure: 500 psig test pressure.
Convenient, reversible main valve doubles service life.
Advanced safety coupling and flange design reduce traffic damage to hydrant. Convenient replacement kit available.
Stainless steel safety stem coupling resists corrosion and assures a tight connection between stem sections.
Efficient hydraulic design provides maximum flow.
Hose and pumper nozzles are threaded in and field-replaceable.
Forced lubrication system and anti-friction washer case operation.
Main valve is easily removed from either the bonnet flange or ground line flange.