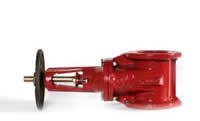 Valves shall conform to the latest version of AWWA Standard C-509 covering Resilient Seated Gate Valves for Water Supply Service.
The valves shall have a cast iron body, bonnet and wedge. The wedge shall be totally encapsulated with rubber.
The sealing rubber shall be permanently bonded to the wedge to meet ASTM tests for rubber metal bond ATSM D429.
Valves shall be supplied with O-Ring seals at all joints. No flat gaskets shall be allowed.
The valves shall be either non-rising or rising stem, opening by turning (left, right,) and produced with 2" square operating nut or a handwheel with the "Open" and an arrow cast in the metal to indicate the direction to open.
Stems for NRS assemblies shall be cast bronze with integral collars in full compliance with AWWA. OS&Y (rising stems) shall be of bronze. All stems shall operate with bronze stem nuts, independent of stem (in NRS valves). Stainless steel stems or stem nuts are not allowed. NRS stems shall have 2 O-Rings located above thrust collar and one O-ring below. All stem O-Rings shall be replaceable with valve fully opened and subjected to full pressure. The NRS stems shall also have 2 low torque thrust bearings located above and below stem collar to reduce friction during operation.
Waterway shall be smooth, unobstructed and free of all pockets, cavities and depressions in the seat area. Valves shall accept a full size tapping cutter.
The body, bonnet and stuffing plate shall be coated with fusion bonded epoxy, both interior and exterior on body and bonnet. Epoxy shall be applied in accordance with AWWA C550 and be NSF 61 certified. PIV plates shall be painted black.
Each valve shall have a maker's name, pressure rating, and year in which it was manufactured cast in the body. Prior to shipment from the factory, each valve shall be tested by hydrostatic pressure equal to requirements of both AWWA and UL/FM.
All internal parts shall be accessible without removing the body from the line.
Valves shall have all brass components cast and assembled in the USA and shall be manufactured by Kennedy Valve Company or equal.