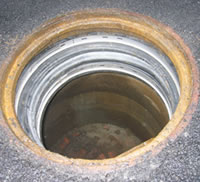 The Classic Internal Chimney Seal is available in standard 8 3/8", wide 10", and extra-wide 13". The sleeves are made of rubber which conforms to the physical requirements of ASTM C-923, as modified, with a minimum of 3/16 inch thickness for durability and resistance to puncturing or tearing. The Classic Internal Chimney Seal pleated configuration provides for a minimum 2 inch vertical of 1/2 inch horizontal movement before stretching the material. Flexibility of the seals material allows one size to fit a frame or chimney diameter differential up to 20%.
Designed for installation in either existing or new manholes.
Does not require excavation or manhole entry.
Versatile - Fits virtually any size or type of manhole.
Available in three widths.
Optional rubber extensions allow complete chimney coverage.
Reusable and adjustable.
Easy to install.
Mechanical seal, does not rely on chemical bond.
Not weather dependent.