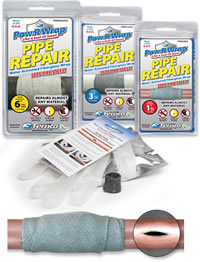 WATER ACTIVATED FIBERGLASS WRAP
If you can WRAP IT ... You can REPAIR IT!
Pow-R Wrap is a strong, permanent and economical repair. Works on virtually every kind of pipe and hose. It's an easy alternative to traditional methods such as cementing, soldering, welding, sleeving and replacement. Works on wet, dry, clean, dirty or corroded pipes. Even works under water ... salt or fresh.
Pow-R Wrap is a complete, self contained kit that includes a resin impregnated fiberglass tape in foil bag, Pow-R Stick epoxy putty to enhance repairs, 1 pair of protective gloves and complete installation instructions. Three convenient sizes to choose from.
FEATURES
Water activated fiberglass wrap
Heat resistant to 425 degrees F
Conforms to a standard water main pressure test
Works on wet or dry surfaces
Cures in 30-90 minutes
EPA Approved
No tools needed
MODELS
FPW284CS Pow-R Wrap - 2" x 48" to repair up to 1" diameter pipe
FPW3132CS Pow-R Wrap - 3" x 132" to repair from 1-1/4" to 3" diameter pipe
FPW4252CS Pow-R Wrap - 4" x 252" to repair from 3" to 6" diameter pipe.